If you have to, use words
The Story of John Wendt and a Willingness to Move
by Dan Mathewson
When I asked John Wendt the typical how ya doing, he sincerely answered: "Better than I deserve." I learned that John is a man who has no time for fluff, exaggeration, or small talk. The urgency of Christ's beckon to all of us is apparent in John: "Follow Me," (Matt. 4:19). And John has chosen to "follow" regardless of monetary confinement, rugged past experiences, or career obligations. Unlike the man who brought up excuses in Matthew 8:22, John chooses to whole-heartedly follow where the Spirit guides him.
In his short 57 years of living from Indiana to California and back again, John has experienced death and chaos in tragically familiar ways. He's attended the funerals of both parents and each grandparent. He's battled drugs, alcohol, and toxic relationships. He's struggled through two divorces and fought grueling custody battles. He's known the successes of business and the failures of trying to be "good enough" for church, community, and Christ's love. And perhaps most consistent of the enemy's lies, John has strongly felt that he is inadequate in giving enough, of being "saved" enough, of loving enough to earn the redemption Christ offers. Where John is now, though, is a Truth-grounded place. He is able to say: "No, I'm not– never was good enough. But that's where Christ takes over. I'm rescued."
Today, weary of life's battles, John is a relentless, optimistic, self-proclaimed "Jesus-freak" who has a very real sense of what it means to endure tribulations before experiencing any prosperity. He is admittedly "shy" and not one to "go in front of people to tell [his] story." Yet, his is one that must be told, just like Jeremiah. When Jeremiah professes to the Lord that he can't speak, the Lord responds: "You shall go to all to whom I send you… Don't be afraid… I Am with you…" (Jer. 1:7-8). Before I even asked John any kind of generic question like who from the Bible do you identify with, he referenced the parable of the Prodigal Son. But after learning John's story, I think he is much more one of the disciples who "immediately left their nets and followed Him" (Matt. 4:20).
While John grew up in a dysfunctional family, he attributes his grandfather, Oliver, to planting in him the seed of the Gospel. And it was Oliver who first baptized John; although at eleven, John didn't know what baptism symbolized. He simply desired to live a life like his grandpa. Oliver became known in Kokomo, IN—where John grew up– for picking up hitchhikers. He unashamedly told them the Good News. This stuck with John throughout his adolescence and his adult years.
In his late teens and early twenties, John wrestled with depression—a deeply seeded loneliness that was founded on the tragedies of a dysfunctional family. John got on his knees and begged for Christ's forgiveness. He prayed to his grandfather's God. And he experienced Grace. He moved to California, started a family and worked for a successful business. After two marriages gone awry, John again found himself on his knees. Again, he found God's mercy. So, nearly six years ago, John moved to Anderson, IN. A seemingly coincidental string of circumstances led him back to the Midwest, renting a house from a woman he'd known and worked with for many years. He found the Lord's calling not just exasperating, but relentless. Even when John sought salvation in other places, he claims he "always knew [Jesus] was there."
For the past six years, John has attended Madison Park Church of God and has been an active member. John does not have time to dilly-dally. He views time as precious and insists that listening to the Spirit is mandatory. The Spirit speaks to us all, but only to those who truly listen  is the Lord's will apparent. With no friends, community, or family, John plunged head-first into community at MPCG. He's since let the Spirit lead him on trips to Kenya, Uganda, and more.
While contemplating a mission trip to Honduras, John received a phone call. The caller had the wrong number, as John surmised from the broken English on the other end of the line. However, the caller was from Honduras. John took this for nothing less than a sign to embark on yet another trip with his church. This is where John's tenacity stands out. Because of his total willingness to always MOVE, John is rarely hesitant. He has confidence not in himself, but instead has an unrelenting faith in the Spirit of Christ who serves as a clear compass for life's direction.
One day, John's mother received a call from a stranger. The stranger was a Christian musician who revealed that Oliver, John's granddad, was the one who first planted seeds of the Gospel in him. "Anybody can be an Oliver," the musician sings. John's life now is dedicated to doing the same. As a man seasoned by the world, John has tasted both the bitter and sweet in life, and he's reconciled with Jesus, the Rescuer from Rock Bottom. John is consistently willing to move for the Holy Spirit. He has a willingness very rare in folks. His confidence is not in his own words or volunteering at church or the "good" things he does; rather, it's in the One who first loved him.
Before we said goodbye, John admitted he isn't the best speaker. But a quote he's found most relevant is from Mother Teresa: "Go tell people about Jesus, and if you have to, use words." John is a man of action. His security is not in himself, nor in what he's earned, but in the One who first called out to him. John lives a life of love, and is consistently willing to move and be moved by the Spirit.
More from our writing team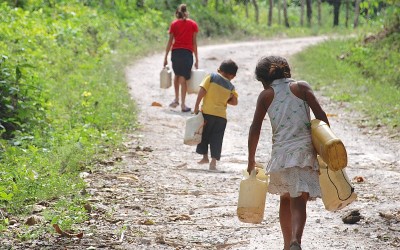 Backbone Made of Steel and a Heart of Gold by Bethany Gaddis No matter what country you live in, being a single parent is a tough job. There is only one pair of shoulders to carry the burdens of your children and only two hands to provide for their needs. It requires...
read more
Learn more about what we do
Graphic Design
We offer custom design services for all of your pieces. We can create a brand guide for your church using fonts and colors that will unify your look. We can also do web work, logos, branding and print media. We can also provide graphic and consultation work for capital campaigns.
Social Media
We maintain and utilize your church social media to create shareable content, conversations, and ad campaigns in order to create a "buzz" about the church in your community. Social media is where people are gathering these days and your church needs to be there.
let's work together!
How does all of this work? It's pretty simple, really. If your church is interested in pursuing a partnership with D373, you just need to let us know and we will take it from there. First, we will survey your staff and leadership. Then we put together a summary of what you told us are your marketing deficits. After that we will come to you, meet with your staff, and present the summary and our proposal of what D373 could do for your church. There is no cost to the church for this visit. Use the form below to let us know you are interested or to ask any questions and we will get back with you pronto!